ingredients
Stone & Skillet English Muffins
2 tablespoons olive oil
2 pounds 80% lean ground beef
1 cup ricotta cheese
2 large eggs
1/2 cup bread crumbs
1/4 cup chopped fresh parsley
1 tablespoon chopped fresh oregano or 1 teaspoon dried
2 teaspoons salt
1/4 teaspoon crushed red pepper flakes
1/2 teaspoon ground fennel
2 tablespoons tomato sauce
basil
1 thick sliced mozzarella 
bread crumbs
2 eggs
flour
4 cups of canola oil
4-5 slices of prosciutto
1 peeled garlic clove
preparation
Heat tomato sauce in a small pan on low.
Mix olive oil, beef, cheese, eggs,
breadcrumbs a medium sauce pot to 350 degrees. Coat mozzarella with flour, egg, and breadcrumbs. Deep fry until golden brown. Remove and drain on a paper towel.
Toast muffin and rub
Assemble burger with basil, burger patty, tomato sauce, fried mozzarella, and prosciutto.
*use leftover meat to make delicious meatballs!
SIMILAR RECIPES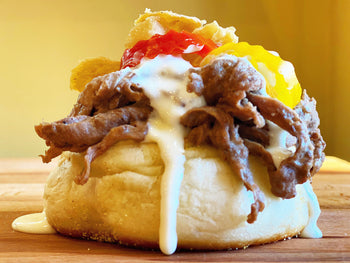 NSFW Cheesesteak Muffin Bomb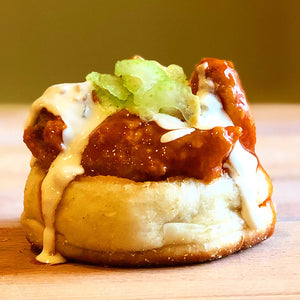 Buffalo Chicken Muffin Bomb