Ingredients:
4 Stone & Skillet English Muffins
1 lb Chicken tenders cut into 1-inch pieces 
1 egg
1/2 cup buttermilk
1 cup flour
Canola oil for frying
Favorite hot sauce (we like Franks)
Blue cheese dressing
Celery sliced thin
Preparation:
Cut tops off the muffins and scoop out the center, only leaving the bottom of the muffin and the sides.
Pour 2 inches of oil in a heavy bottom large pot with high sides and heat to 350 degrees F
While oil is heating, crack the egg into a medium-sized bowl and mix with buttermilk. 
In another bowl pour in flour
Put chicken pieces into flour and coat the chicken
Place floured chicken into the buttermilk mixture and submerge until coated. 
Place chicken back into the flour and coat completely with flour. Let sit for about 5 minutes in flour.
While chicken is sitting and oil is heating, take a large bowl and add 1/2 cup of hot sauce. Set aside.
Once the oil is hot enough, carefully place chicken pieces, one by one, in the oil and fry until an instant-read thermometer reads 165 when put in the center of the chicken. 
Remove fried chicken with a slotted spoon and place directly into the hot sauce bowl and toss until fully coated. 
Place chicken into the scooped out muffins, drizzle with blue cheese dressing, and top with sliced celery. 
SIMILAR RECIPES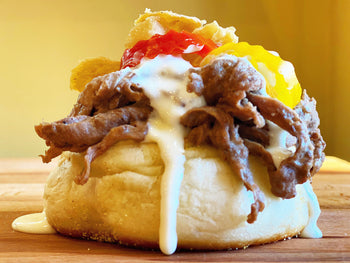 NSFW Cheesesteak Muffin Bomb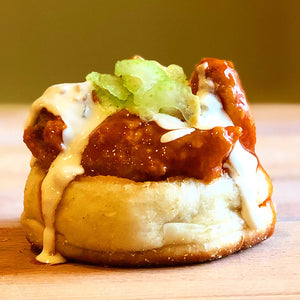 Buffalo Chicken Muffin Bomb