ingredients
6 packs of Stone & Skillet Garlic English Muffins, cubed
2 cups unsalted butter
2 onions, finely diced
3 stalks of celery, thinly sliced
1 quart chicken stock
¼ cup poultry seasoning
1 teaspoon kosher salt
preparation
Preheat your oven to 450° degrees F. Place the cubed bread in a 9×13-inch casserole dish. Set aside.
In a medium-sized pot, melt your butter over medium heat. Add in the onions and celery, and cook until translucent, for about 10 minutes, stirring often. Add chicken stock, poultry seasoning, and salt, and stir to combine. Turn off the heat.
Pour half of your onion mixture over the cubed bread, toss to combine, and add in more of the onion and stock mixture until the stuffing is very moist, but not soupy. Bake the stuffing for 45-60 minutes, until well browned, but still moist in the center. Serve hot.
SIMILAR RECIPES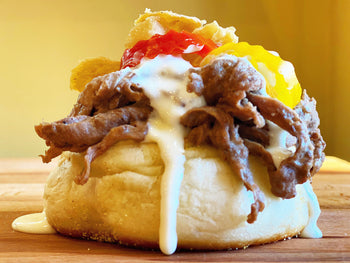 NSFW Cheesesteak Muffin Bomb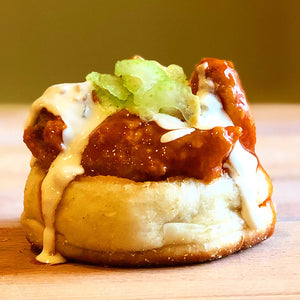 Buffalo Chicken Muffin Bomb