INGREDIENTS:
4 Stone & Skillet English Muffins
1 Tablespoon oil
1 lb shaved steak
25 slices of American cheese
1/4 milk
Banana Peppers, thin sliced (optional)
1 teaspoon salt
Pepper
PREPARATION:
Cut tops off the muffins and scoop out the center, only leaving the bottom of the muffin and the sides to create a muffin shell. 

In a small saucepot, heat milk on medium heat and add cheese slices.
With a wooden spoon or spatula, break up the cheese as you stir constantly.
Keep stirring and once the cheese has melted and a thick cheese sauce has formed, turn down to the lowest setting on your stove to keep warm. 
Heat a large skillet on medium-high.
Add oil and steak. 
Using a spoon or spatula, evenly distribute the steak and cook. 
Add salt and pepper to taste. 
Once the steak is done, turn the heat down to medium-low and add half the cheese sauce. 
Stir to combine. 
Using a spoon or tongs, fill each muffin shell with steak and top with banana peppers and more remaining cheese sauce.
SIMILAR RECIPES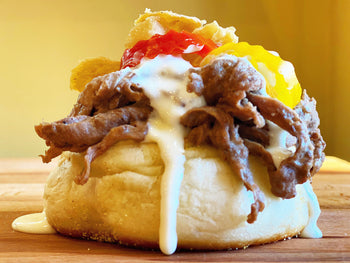 NSFW Cheesesteak Muffin Bomb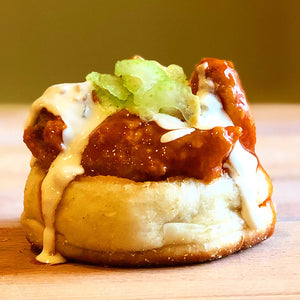 Buffalo Chicken Muffin Bomb