ingredients
1 Stone & Skillet English Muffin
1 bone in pork butt
1 bottle liquid smoke
1/4 cup your favorite pork rub
1 onion, sliced thin
1 cup flour
Bread & Butter pickles
1 qt canola oil
BBQ sauce
preparation
 Preheat the oven to 250 degrees F.
In a large roasting pan, place the butt fat side up. Pour the liquid smoke evenly over, and then sprinkle with the rub. Cover the pan with plastic wrap, and then tin foil, crimping the foil around the edges to seal tight. If you need 2 pieces of tin foil to cover the pan, make sure to fold them together to seal the joint. Bake for 10 hours, or until the bone pulls out easily.
Pull the meat apart, reserving any juices.
Tobacco Onions:
Heat oil in a large tall sided pot to 350 F. Coat sliced onions in flour until thoroughly coated. Carefully drop onions in oil and fry until golden brown. With a slotted spoon, scoop out onions and drain them on a plate with a paper towel. Sprinkle salt on the onions
Assemble:
Cut english muffin and top the bottom muffin with pulled pork, pickles, onions, and bbq sauce.
SIMILAR RECIPES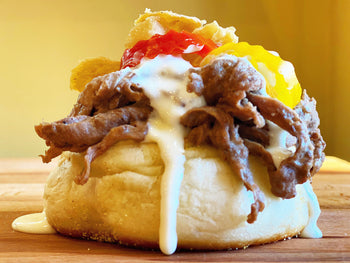 NSFW Cheesesteak Muffin Bomb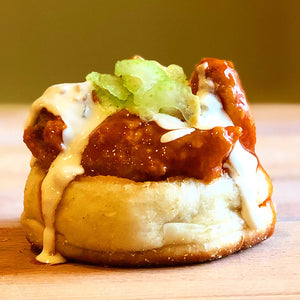 Buffalo Chicken Muffin Bomb