ingredients
1 Stone & Skillet English Muffin
1 chicken breast
1 cup flour
1 egg
1 cup of milk
1 quart canola oil
Wing sauce
1 carrot
1 stalk of celery
1 teaspoon of celery seed
1 tablespoon sugar
1 tablespoon apple cider vinegar
2 bread and butter pickles
Blue Cheese dressing
preparation
Slaw
Slice carrots and celery very thin. Dress with vinegar, sugar, and celery seed. Set aside.
Fried Chicken
Heat oil in a heavy pan on medium-high heat to 350 F. Whisk egg and milk in a bowl. Put flour in a separate bowl. Dredge chicken in flour first then in milk then again in flour. Drop chicken into hot oil and fry for 10 -15 minutes. Use probe thermometer to make sure chicken has reached 160 F. Use tongs to take chicken out of oil and place in a bowl with wing sauce. Toss chicken in sauce until completely coated.
Assemble
Cut muffin in half. Place slaw and pickles on the bottom bun. Top with chicken and blue cheese dressing.
SIMILAR RECIPES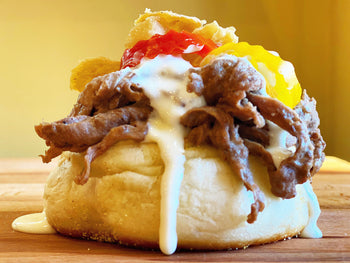 NSFW Cheesesteak Muffin Bomb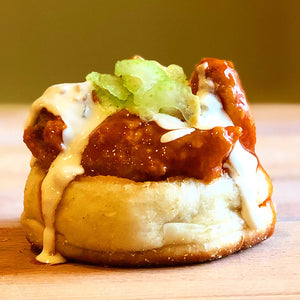 Buffalo Chicken Muffin Bomb