ingredients
1 Stone & Skillet English Muffin
1 thin sliced chicken breast
1 cup Italian seasoned bread crumbs
1 egg
1 cup of milk
1 cup flour
1 cup tomato sauce
1 slice parmesan cheese
¼ cup fresh basil
preparation
Preheat oven to 400 F. Put breadcrumbs in a sheet tray and bake for 10 minutes or until golden brown. Take bread crumbs out of the oven and set aside.
Mix egg and milk in a shallow bowl. Put flour in a separate bowl. Season chicken breast with salt and pepper. Dredge chicken in flour, then egg/milk, then toasted breadcrumbs. Place chicken on a sheet tray and bake for 20 minutes.
While chicken is baking, heat sauce in a small pot on the stove.
Once the chicken is done, take out of the oven and top with sauce and cheese. Place back into the oven for 5 minutes. Cut muffin in half and place chicken on top of the bottom muffin and top with fresh basil and the top muffin.
SIMILAR RECIPES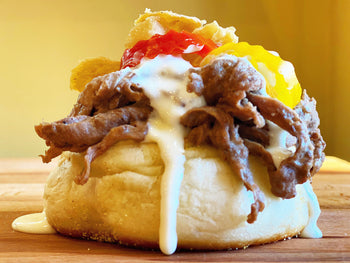 NSFW Cheesesteak Muffin Bomb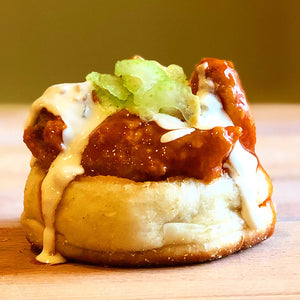 Buffalo Chicken Muffin Bomb