ingredients
4 Stone & Skillet English Muffins
1 lb Ground Beef
1 Tbsp. Chili Powder
1/4 tsp. Garlic Powder
1/4 tsp. Onion Powder
1/4 tsp. Crushed Red Pepper Flakes
1/4 tsp. Dried Oregano
1/2 tsp. Paprika
1 1/2 tsp. Ground Cumin
1 tsp. Sea Salt
Shredded Mexican Cheese
Sliced Black Olives (Optional)
Pickled Jalapeno (Optional)
Enchilada Sauce
preparation
Preheat oven to 450 F. Mix chili powder, garlic powder, onion powder, red pepper flakes, oregano, paprika, cumin, and salt together.
In a skillet, cook ground beef and add taco seasoning. Take off the heat.
Cut english muffins in half and spoon taco meat onto each muffin. Sprinkle cheese on top and place in oven. Bake until cheese is melted. Top with enchilada sauce, black olives, and pickled jalapeno.
SIMILAR RECIPES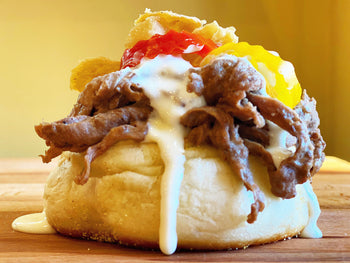 NSFW Cheesesteak Muffin Bomb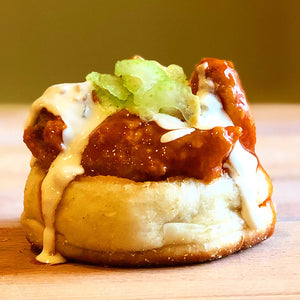 Buffalo Chicken Muffin Bomb