Ingredients:
Stone & Skillet English Muffins
Your favorite tomato sauce, we like Rao's
2 T olive oil
2 lbs 80% lean ground beef
1 cup ricotta cheese
2 large eggs
1/2 cup bread crumbs
1/4 cup chopped parsley 
1 teaspoon dried oregano
2 teaspoons salt
1/4 teaspoon red pepper flakes
1/2 teaspoon ground fennel
Fried onions
Shredded mozzarella
Preparation:
Using a small sharp knife, cut into the top of the muffin at an angle so that the tip of the knife is going into the center of the muffin. Using a slicing motion, and your other hand to stabilize the muffin, cut all the way around the top so that you can take out the centerpiece.
With the remaining muffin, use your thumbs to push down the inside of the muffin and pinch the sides. Don't worry, we'll make a video about how to do this soon!
Put muffins on a sheet tray and set aside. 
In a small saucepan, warm tomato sauce on medium-low heat. 
Set the oven to broil on high heat and put the rack in the middle of the oven.
Mix all the meat, ricotta cheese, eggs, bread crumbs, parsley, oregano, salt, red pepper flakes, and fennel in a bowl with your hands until thoroughly combined. 
Pink off a grape size chunk of meat and roll with your hands to form a ball. 
Place rolled meatballs on a sheet tray. 
Once all meat has been rolled into balls, set a large skillet on medium-high heat. 
Once heated, add olive oil to the pan and start loading pan with meatballs. Don't overcrowd the pan. 
With a spoon, turn meatballs over once one side is cooked. 
Remove cooked meatballs and replace pan with uncooked meatballs. 
Once all meatballs are cooked start to fill your muffins with 6-7 meatballs each. 
Take warm tomato sauce and spoon over the meatballs.
Sprinkle mozzarella cheese over the sauce and meatballs and put sheet tray in the oven to melt the cheese. 
Once the cheese has melted and is bubbly, take and out serve right away!
SIMILAR RECIPES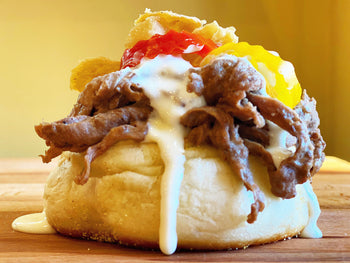 NSFW Cheesesteak Muffin Bomb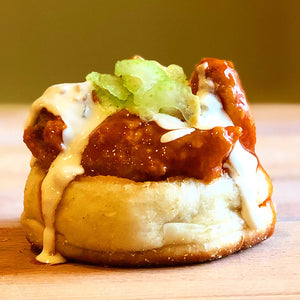 Buffalo Chicken Muffin Bomb