ingredients
4 Stone & Skillet English Muffin
1 ½ lbs ground beef
3 Anaheim chilies, stemmed, halved lengthwise and seeded
3 Jalapeno chilies, stemmed, halved lengthwise, and seeded
1 Onion, peeled, sliced into ½ inch thick rounds
1 Garlic clove minced
1 tbsp chopped fresh cilantro
4 slice Manchego cheese
4 tbsp Chipotle Adobo Sauce
Chipotle Adobo Sauce
1/2 cup mayonnaise
2 cloves garlic, chopped
2 jarred piquillo peppers, drained
2 teaspoons smoked sweet Spanish paprika
1/2 teaspoon kosher salt
preparation
Grill chiles and onion, covered, over a hot fire until vegetables are lightly charred and tender, 2 to 4 minutes per side. Transfer vegetables to bowl, cover, and let cool 5 minutes. Remove skins from chiles and discard; separate onion rounds into rings.
Transfer chiles, onion, cilantro and garlic to food processor and pulse until coarsely chopped. Transfer all but 1/4 cup chopped chile mixture to empty bowl and season with salt and pepper; set aside. Process remaining mixture until smooth.
Combine beef, pureed chile mixture, 1/2 teaspoon salt, and 1/4 teaspoon pepper in large bowl and knead gently until well incorporated. Shape into four 3/4-inch-thick patties and press shallow divot in the center of each.
Grill burgers, covered, over a hot fire until well browned on the first side, 3 to 5 minutes. Flip burgers, top with chopped chile mixture, Bolo Sauce and cheese, and continue to grill, covered, until cheese is melted and burgers are cooked to desired doneness, 3 to 5 minutes. Serve.
Chipotle Adobo Sauce
To make the aioli, combine the mayonnaise, garlic, peppers, paprika, and salt in a food processor and process until smooth. Cover and refrigerate for at least 30 minutes before serving. The aioli can be prepared 1 day in advance, tightly covered, and refrigerated.
SIMILAR RECIPES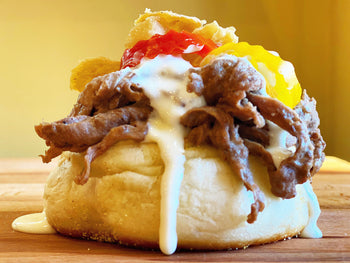 NSFW Cheesesteak Muffin Bomb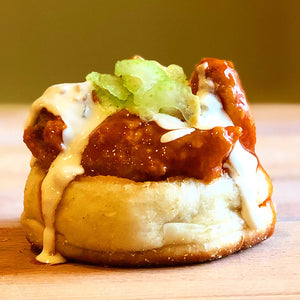 Buffalo Chicken Muffin Bomb