ingredients
Stone & Skillet English Muffin
Skinless chicken breast
1 cup flour
1 cup buttermilk
1 egg
Oil
Bread and butter pickles
2 slices thick cut bacon
Shredded lettuce
Salt and pepper
White BBQ Sauce:
2 cups mayonnaise
1⁄2 cup prepared horseradish
1⁄4 cup apple cider vinegar
2 tbsp. sugar
4 tsp. kosher salt, plus more to taste
1 tbsp. ground black pepper, plus more to taste
1⁄2 tsp. cayenne
2 1⁄4 tsp. sweet paprika
1 1⁄2 tsp. garlic powder
3⁄4 tsp. celery seeds
1⁄4 tsp. ground cumin
1⁄4 tsp. ground coriander
preparation
Mix all sauce ingredients together and set aside in the fridge.
Cook bacon and set aside.
Heat oil in a heavy bottom pot to 350 degrees F
Mix egg with buttermilk and place in a bowl.
Add flour to a separate bowl.
Coat chicken in flour, then in the buttermilk, then back into the flour. Let sit for about 10 minutes patting the flour into the breast to form clumps.
Carefully place chicken in the oil and cook until golden brown and an instant read thermometer reads 165 degrees F.
Remove chicken from oil, let drain on paper towels, and season with salt and pepper.
Assemble the sandwich by stacking lettuce, bacon, chicken, sauce, and pickles.
SIMILAR RECIPES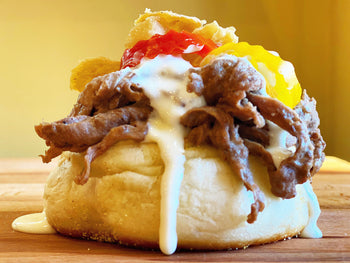 NSFW Cheesesteak Muffin Bomb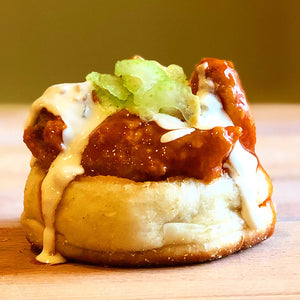 Buffalo Chicken Muffin Bomb