ingredients
4 Stone & Skillet Savory Herb & Roasted Garlic English Muffins
12oz shaved steak
Banana peppers
Onion sliced thin into rings
Flour
Canola oil
Cheese Sauce:
12oz American cheese
1/4 cup Yuengling Lager
1/4 cup of milk
preparation
On med-low heat, melt cheese, Yuengling, and milk. Stir constantly until it is a creamy consistency. Set aside and keep warm.
Heat one inch of oil in a small sauce pot.
Toss sliced onion rings in flour and fry in oil until golden brown.
Cook shaved steak in a skillet and season with salt and pepper.
Cut muffin in half lengthwise and top with shaved steak, cheese sauce, onion rings, and banana peppers.
SIMILAR RECIPES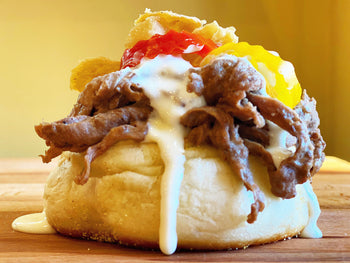 NSFW Cheesesteak Muffin Bomb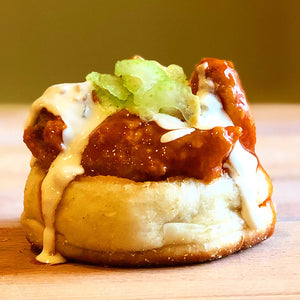 Buffalo Chicken Muffin Bomb